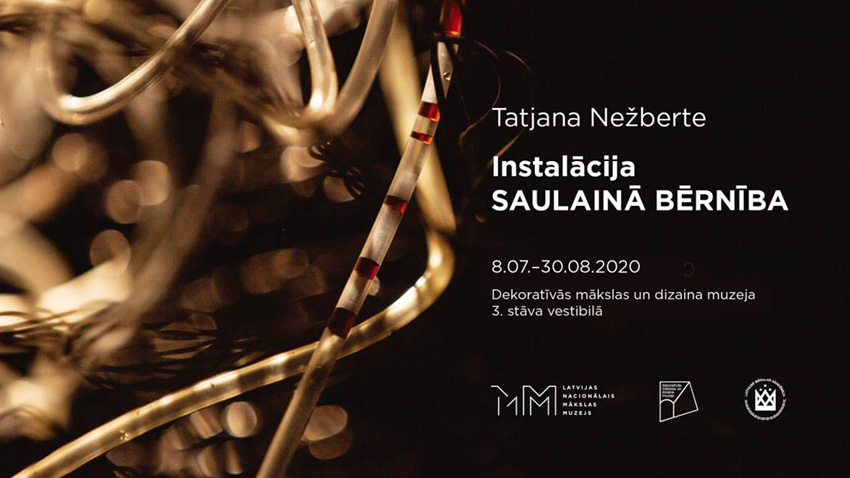 Tatjana Nežberte's contemporary textile art installation
8 July – 30 August 2020
The Museum of Decorative Arts and Design / 3rd floor vestibule
In response to the social isolation caused by Covid-19 and its consequences, from 8 July to 30 August 2020, the Museum of Decorative Arts and Design in Riga (Skārņu iela 10) invites you to experience artist Tatjana Nežberte's contemporary textile art installation Sunny Childhood. Through the application of unconventional materials – used plastic intravenous systems, the author is addressing the silent epidemic of parental child abuse, which has intensified during Covid-19 pandemic.
"Violence is like a stain we are ashamed of, we feel guilty and keep silent. It is not acceptable to discuss it with family, friends, or acquaintances," Tatjana Nežberte, recipient of the master's degree in textile art from the Art Academy of Latvia, has ascertained. Grounded in her personal experience and emotions deeply engrained in her memories, she has created a poetical and emotionally effective contemporary textile artwork Sunny Childhood.
The three-dimensional installation combines materials atypical of textile art – plastic intravenous systems, which have been used to administer medication, and steel wires, which are used in construction. The selection of resources was guided by the state of emergency caused by the pandemic, which made the author look at the intended theme of the work, technical execution, and materials from a new perspective. The installation is accompanied by recorded anonymous stories about childhood experiences of abuse and violence, adding to the impact of the visual object.
For research purposes, Tatjana Nežberte became acquainted with child abuse statistics and Riga Stradiņš University's Dr Lauma Spriņģe's doctoral thesis about family violence against children. The artist was shocked by the high numbers documenting parental violence against children, which keeps increasing in Latvia and Europe due to the Covid-19 pandemic. With her diploma thesis, the Sunny Childhood, the author hopes to open society's eyes to its future – children.
Tatjana Nežberte's textile is like a nonverbal poetry that becomes spatial and completely changes the entrenched view of textile art as simply classical handicraft.
EXHIBITION CO-ORDINATORS:
Inese Baranovska, Head of the Museum of Decorative Arts and Design /
Latvian National Museum of Art
Ph: (+371) 67 830900, E: [email protected]
Anete Piņķe, Communication Specialist of the Museum of Decorative Arts and Design /
Latvian National Museum of Art
Ph: (+371) 65 222235, E: [email protected]
Alise Pundure, trainee at the Museum of Decorative Arts and Design
INTERNET SOURCES:
FACEBOOK: Dekoratīvās mākslas un dizaina muzejs
YOUTUBE: muzejsDMDM
TWITTER: @DMDMmuzejs
INSTAGRAM: @DMDMmuzejs
#lnmm
#DMDMmuzejs