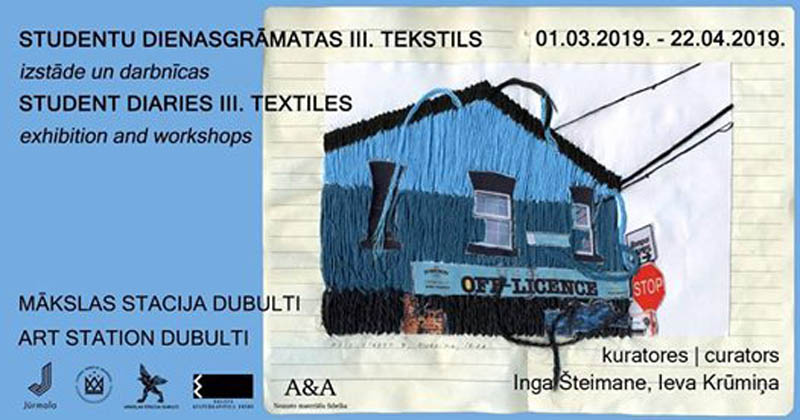 exhibition, open studios and workshops
01.03.2019.–22.04.2019.
ART STATION DUBULTI, Jūrmala
Opening events:
1st March at 18:00 – exhibition opening (free entrance, Art Station Dubulti, Jūrmala, Zigfrīda Meierovica prospekts 3);
This time the project "Student Diaries" is dedicated to textile art – "Student Diaries III. Textiles". The artworks of the show are created by the students of the Art Academy of Latvia (AAL), Textile Art Department. The exhibition is unique in that the viewer will see not only the exhibits but also will be able to watch the Open Studios throughout the show and participate in workshops. Every day one of the artists will work at the exhibition place continuing the exhibited work, explaining materials, techniques and the birth of the idea. The project will emphasize the open structure of textile work, the inextricable presence of "handcrafts" and diversity of contemporary textile materials, techniques and stories.
AAL positions Textile Art as an interdisciplinary field where it is possible to act in art and design. Ieva Krūmiņa, head of the Department of Textile Art, invites you to see "the charm of authentic textile material, a special inner intelligence that attracts vision and other senses without mind-built formulas". She thinks it is important to have the ability to "talk" with the material, whether natural or industrial, "when the artist pulls out the image of a pile of amorphous matter". Art Station Dubulti in the project "Student Diaries III. Textiles" invited the upcoming artists to converse to the space, too. Students created seven large-scale site-specific installations from small sketches, and in one case even a conceptual dedication to the Soviet era furniture canon – "sections". The exposition consists of more than thirty works in total. Curator Inga Steimane has invited each exhibitor to find the continuing aspect of her work that will be shown in the Open Studios and workshops. The story of the exhibition is made up of two main themes about hybridity: the entry of ready-made and socially charged materials into textile art alongside traditional materials and identity hybrids that contain patriarchal myths and gender role criticism in different proportions and mutations.
Artists: Kintija Avena, Sabīne Azlauska, Lilita Bauģe, Elīne Buka, Theresa Büchle, Daniela Djubina, Laura Dzērve, Katrīna Eihe, Ilze Erba-Brenholma, Santa Grigus, Līva Ikkerte, Diāna Janušone-Bojāre, Elīza Kristīne Kleine, Kristīne Kligina, Elizabete Klints, Maruta Konceviča, Diāna Kokorēviča, Lauma Kokorēviča, Kristīne Krastiņa-Indāne, Maija Kupča, Kristīne Kutepova, Santa Leimane, Ella Mihailova, Tatjana Nežberte, Agnese Ondzule, Šarlote Baškevica, Annele Slišāne, Guna Stikāne, Iveta Šmita, Maryllis Teinfeldt, Agnese Tukāne.
Curators: Ieva Krūmiņa, Inga Šteimane.